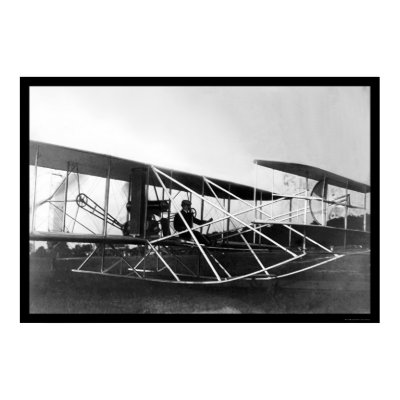 ADVANCED TRAVEL MACHINE 1909
In the last few days, Greg Bishop at UFO Mystic http://www.ufomystic.com/ has had a couple posts about just how different, weird, or, non-human, the aliens that visit our planet might be - stressing how we certainly may not be able to figure out their motivations or interests in our planet or human beings. Indeed, in his first post on the subject - it had a large outpouring of individuals reacting to his article. And, in one of those posts - the comment is made - as it often is on UFO sites - that any aliens visiting Earth may be a `million' years `ahead' of us in `development' (sciencewise as well as ethically).
Well, at least the comment person said a `million' - I can barely stand it when someone says 1,000 years ahead of us - with a gasp in their voice. But, since this is where our `air' transportation was 100 years ago (see picture on top of post) - I guess to that person 1,000 years in terms of the `civilizations out there' might indeed seem impressive. But,.................. it's not.
Indeed, the points that Greg brings up in his article about the `alienness' of the aliens is dead on. To fully comprehend what may be going on in our skies and perhaps even in peoples minds (abductions come to mind) - I'd say that to get a grasp on even a tiny portion of that - one needs to take a view of `time' that is truly enormous - almost really, beyond human comprehension. Because, such a view on `aliens and intelligence' would lead the thinking person on into realms involving billions of years - yes - billions.
I would hope that readers of this blog are knowledgeable enough to know that the material that our Sun is made of - and us too - are the remains of a `star' that `blew up' supposedly about 7 billion years ago. I would also hope my readers are aware that science speculates that our Universe is less than 14 billion years removed from the Big Bang event. And, finally, I would hope that my readers are aware that `stars come and go' and that stars (and most likely planets) have been present in the universe nearly all except for the first several hundred million years. But, what readers may not be aware of, is that as soon as the `heavier' elements began to be abundant - it was possible for `life' to be in the universe - a situation that could ONLY happen after the first generation of stars.
The long story short is that for BILLIONS of years - life, and indeed intelligent life - may have been present in the universe. Even intelligent live that could have been human like or beyond. So, what ultimately must be considered by folks with an interest in UFO's is that it's possible that entities or intelligences grown from our universe elements may exist in a form appropriate for life forms billions of years old. Indeed, the real question is - how would such life forms present themselves here, on Earth, about 14 billion years after the BB? AND, what could they possibly WANT from a species like human beings?
Greg Bishop in his post points out, and I agree, that they likely don't NEED us for anything, and, would probably have `solved' virtually any `problem' they had with their level of science intelligence. Indeed, if thought about - it makes the one UFO meme that the `aliens' need us for our genetics - seem silly.
Now, this isn't to say that `aliens' wouldn't exist at ALL levels of `timeframes'. Some civilizations could be billions of years old (obviously, they would be wanderers of the universe as their `parent' planet in all likelihood has been gone for eons) - although I expect that number to be quite limited. However, more and more civilizations may indeed be hundreds of millions of years old - and indeed, more would be only several million years old. And, yes, some would indeed, be only a million or even only a thousand years `ahead' of us.
Frankly, I think the odds that an alien race that is presenting itself to humans - is NOT just a thousand years ahead of us. Hundreds of thousands to many millions of years is much more likely. So, let's put ourselves into the position of a `species' that may have more than a million years advancement from humans. (And, obviously, advanced enough to NOT blow up their home planet - at least before leaving it.) What indeed could we expect from a civilization of such age - what would they want their legacy to be? What would they find of interest on planets?
Could it be that `drama' and `humor' - might fit the bill?
Did you know that in 2007 that over 200 star systems had been identified as being within 33 light years of Earth? And, that new ones are being discovered all the time (many of these are brown dwarfs - but - they too could possibly have a habitual zone too) - indeed one system recently discovered was only 12 light years away.
Now, why do I digress into these statistics?
Well, because we have been `broadcasting' to that universe for nearly 100 years. `I Love Lucy' has easily made it to over 500 if not 5000 star systems by now. And, what could be more humorous or have more drama than Human Beings? Could it be that the `things' that are seen in the sky are data collectors for that humor and drama? Would WE not watch such a `program stream' about another planet?
Are Humans Entertainment For Billion Year Old Entities?
Thanks for reading today - I'd love to read YOUR comments. Oh, and don't miss my main blog at http://www.theheavystuff.com/ where I have upwards of 80 posts on the strangest of ideas. Or, if you prefer current weirdness - I have a near daily Squidoo site about the high strangeness in the world www.squidoo.com/AnomalyMan.