As a person with a `UFO Story' (my personal UFO sighting) and who has never reported it to MUFON - I guess I understand doing so `decades later' - just to flush out the `truth' of ones perceptions. Lately, I've noticed not only more such stories coming to light - but, in general, the detail attached with such memories in comparison to the typical `current' UFO story. Consider two of today's offerings from the latest MUFON reports of O1983ct. 12th:
--------------------------------
Oldest First - From 1979 near Las Vegas, Nevada:
We were at my home in Ruhenstroth, Nevada about 8 miles South of Gardnerville, Nevada. My wife and I were taking my mother back home to Lake Tahoe and we just pulled out of the driveway heading South. I saw a bright object over the horizon South/Southwest, it looked like a helicopter landing light at first but as it got closer it was to high. I got out of the truck and looked at the object and told my wife and mother that it was a UFO and to stay in the truck, they looked at it through the window. I stood there watching the object fly towards us, it was a mother ship that was eye shaped, bright solid yellow, at the back of the ship (the pointed eye) was a tail of translucent yellow/gold light, similar to a flame. Within this tail of light there was 4 solid objects, (smaller ships) in a perfect square formation. At about a 55 to 60 degree angle from where I was standing looking South/Southwest, the 4 ships broke away from the mother ship, 2 going over towards Lake Tahoe (west) and the other 2 going over what is called the Pine Nuts,(east) and they vanished below the horizon in each direction. The mother ship continued to fly directly over my head at approximately 5,000 feet AGL (above ground level) heading North/Northeast. As it flew over us there was absolutely no sound what-so-ever. Where we lived was 8+ miles away from any town lights, dark and clear night, the only sound was crickets. As it flew over me I was in a numb state, in awe. Afterwards and to this date I still now and believe what we observed was a UFO. The mother ship continued to fly North until it was out of sight. Reports the next day from the FAA and Government was that it was a satellite the re-entered the atmosphere west bound over New Mexico and into Arizona making a turn northbound heading up through Nevada and into Canada. As anyone knows, any object that re-enters the atmosphere does "NOT" follow the curvature of the earth or change headings by 90 degrees, it burns up and falls to the ground. I was a fixed wing pilot back then and now a commercial helicopter pilot, I have also worked with Rocketdyne on the Space Shuttle Columbias rocket engines. I know what I saw back then in 1979 when I was 24 and now 33 years later at 57 I need to tell about this sighting.
http://mufoncms.com/cgi-bin/report_handler.pl?req=view_long_desc&id=43167
==============================================================
Next Up - 1983 Marble Falls, Texas:
I had a sandwich delivery route traveling within the central to southwest part of Texas at the time. My wife was riding with me on this route which i usually ran by myself. It was about 9 to 10 PM & a very clear dark night with no moon I can remember. I was driving north on US Hwy 281 about 10 miles south of Marble Falls,Tx. We were entering a hwy. area that had been cut out of a rocky hill with about 40 ft. on both sides & was uphill on entry & downhill on exit. Probably about 1/4 mile in length when the hwy. returned to a normal shouldered hwy. of that time. No other autos in front or in rear of us. As we neared the crest of the cut out hill a HUGE object very slowly passed over us that was a lot larger than the width of the hwy. Hard to tell how wide it was as it was so low that the sides of the cut out hill hid what we couldnt see. It was as a guess about 20 t0 30 feet above the cut out hill moving south at an almost stopping speed. It had rectangular windows like in homes that were lit but a low level of yellowish light. We could se nothing inside but the dim lights. It made no sound, no vibrations, no power trail & did not interfer with any of the electricals of the truck. I was driving about 60MPH so as it passed over us I looked in my outside rear view mirrors to make sure of what we saw but by that time going downhill & saw nothing else. I asked my wife if she saw what I just saw & she said "Yes. What was that?" "I dont know but very strange." A bit shaken by this we drove into Marble Falls a few minutes later & stopped at a store to get a soda & gather our thoughts. We mentioned nothing of this to the store clerk & stood outside a few minutes looking South first then all directions but saw nothing but stars. We never talked about it to anyone for many years & occasionally among ourselves. She passed away 12 or 13 years ago so Im the only one to relate what I definately saw that night. Have always wondered if it was something our military was working on as it was not that far to Ft. Hood military base.
http://mufoncms.com/cgi-bin/report_handler.pl?req=view_long_desc&id=43165
==================================================================
You say `give me a current UFO video'? Ok, the newest one from the MUFON reports today is this one Last Week In Delaware - Brief Capture Of Orange Orb.
============================================
UDCC - Citizen Reports of UFO's.
============================================
Dozens of you downloaded `Beyond The Great Beyond' off my Author page for FREE yesterday and it's still FREE today - as is ANOTHER BOOK. How about checking out my books and read a sample chapter? My Author Page.
=============================================
Finally for today - an AMAZING finding perhaps. Seriously. Someone has found AMAZING photo evidence that EARTH'S ocean floor HAS BEEN MINED sometime in the past. Seriously. First a picture - a small sliver of a 300+ mile track of this thing.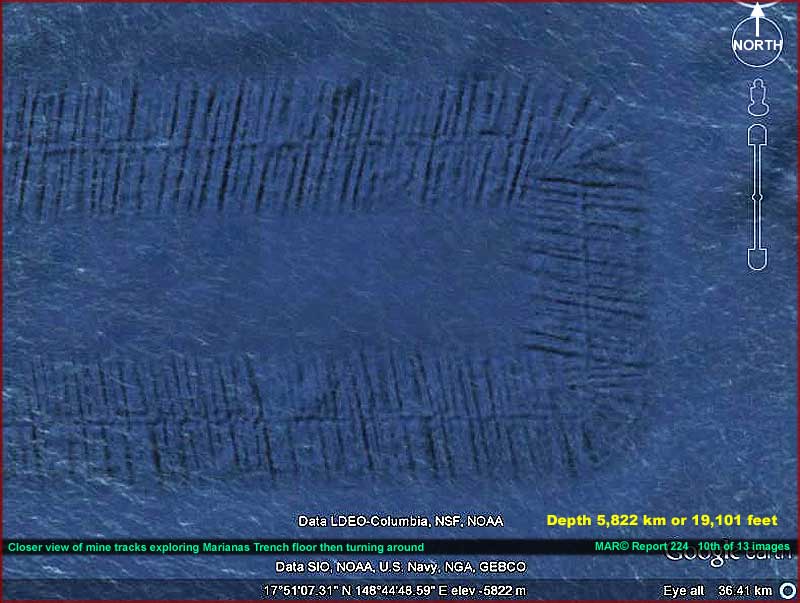 http://www.marsanomalyresearch.com/evidence-reports/2012/224/10-224-turn-close.jpg
=============================================
Serious Clockers will want to involve their mind with this evidence of the Ocean Floor Being Mined In The Distant Past. This is not lightweight material.
=======================================
You know, it seems more and more `visual' evidence of something happening in ages past is coming to light - think Ken Pfeifer's Moon Wall and more. The above website is also full of other `impossible' evidence on Mars and the Moon - in addition to this Earth picture.
Clockers, any feedback?
=======================================
=======================================
ADVANCED PRODUCTS FOR ADVANCED MINDS - ARE YOU COVERED `WATERWISE' IF THE MARKETING SYSTEM BECAME THREATENED?
Katadyn Pocket Water Microfilter
============================================================